What is the Difference Between Email Hosting and Web Hosting?
Some people may think that email and web hosting are on and the same; however, they serve different functions. Learn about what these services can do for your business.
Here is a typical scenario for any online business. The enterprise deals with multiple users every day. Web-based entrepreneurs require an efficient medium to ensure that data reaches the target audience. When it comes to hosting, it is practically a choice between Email hosting and Web hosting.
Hosting companies provide these essential services. These represent vital elements of operating a business as well as interacting with staff and customers on the Internet. The two approaches are similar but work in two different ways. To begin with, web hosting refers to website files stored in one or several servers. On the other hand, email hosting involves storage of email data.
Basic Variations
Web hosting will allow your site to thrive online and provide access to web browsers. Content is hosted on the server. In email hosting, content stored on the server can be the same one that hosts the content, host-managed server, or two different servers the hosting provider manages.
In web hosting, the host serves web pages once users type yourwebsite.com.
In email hosting, the host owns the server from where content is obtained when an email message is sent to yourname@yourwebsite.com.
The connection between the two techniques has become vague after more providers started offering combination packages. These combo deals usually include free hosting of email accounts for every order of a hosting plan.
Web Hosting Specifics
Web hosting essentially entails publishing websites online through servers. Email hosting hosts multimedia that viewers may access who are not part of the domain. The provider has the capacity to run different servers and accommodate multiple requests simultaneously. However, this still depends on the servers' capabilities. The request refers to any user who accesses a site hosted in that server using a browser.
Certain servers can manage only several requests because of bandwidth restrictions. Web hosts address this issue by scaling up. One server can also host numerous sites and email services. Shared servers are basic units that hosting firms provide. Clients have the prerogative of upgrading servers with better bandwidth or shift to dedicated servers. This is the usual move as traffic and requests increase.
A dedicated server turns out more useful if the user's website consumes more storage data. The price is higher than shared hosting. Notwithstanding the cost, you can expect more benefits such as security and optimum performance of your website. Web hosts supply physical space for displaying an e-commerce site's merchandise. Website content includes text, videos, and images.
Different types of web hosting are available to cope with websites' requirements. Plans vary from shared hosting with multiple websites using just one server to dedicated hosting where one client utilises the whole server space and bandwidth.
Email Hosting Specifics
Email hosts lease servers made to handle clients' data for the sending and receiving of emails. It is what makes the method unique. Users rent servers confined to hosting email messages. Online businesses that use this system set up their email address through domain names. The domain name directly sends emails using the server instead of free email websites.
Clients connect to a registered domain name to their servers. Using this combo enables them to produce unique user names for every user. One example is user@yourwebsite.com. The server hosts all emails going to and coming from this email. The server is a distinct property of email hosting. As a practice, hosts provide dedicated servers unlike free sites attending to various users at a given time.
This means it operates exclusively for several accounts. Hence, resources in that server are reserved for several accounts. Customers' requirements that go beyond their existing servers' capacity can scale up sharing content on multiple servers. Paid email hosting is an effective way of obtaining more efficient service. You can rely on features like bundled applications.
Compared to ad-endorsed free webmail, premium hosting does not have advertisements. It is likewise inclusive of cutting-edge email management solutions together with creation features. Email hosting transforms the business because of the email management platform. Paid packages include extra tools that target mailing list segments and improve email marketing campaigns.
Five Prominent UK Web Hosts
There are many hosting providers in the UK. Here are five companies known for their reliable service and performance.
Jolt UK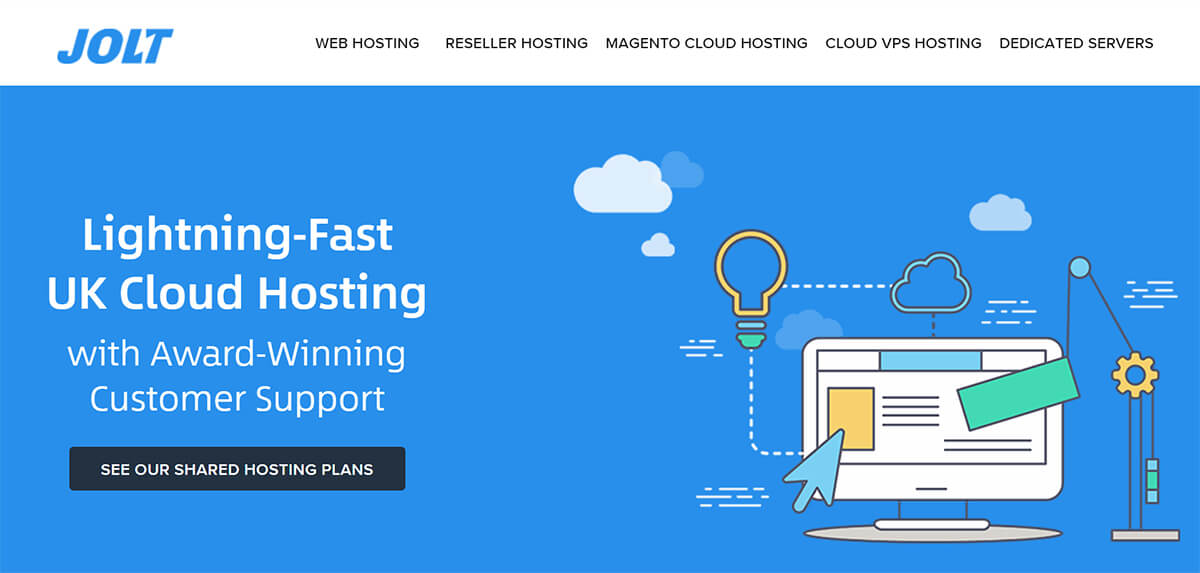 This cloud hosting provider delivers web hosting to the United Kingdom and Europe. It operates a secure and consistent datacentre in the UK with its own set of servers, infrastructure, and stable network. Said components comprise the pillar of Jolt's web and cloud hosting plans.
Its Tier IV datacentre and investment on sophisticated infrastructure guarantees seamless, secure, and prompt hosting. Jolt acquires hardware only from unfailing providers such as Cisco, Dell, Supermicro, and Juniper. The 11-year old company offers a complete array of services.
Web Hosting
Cloud Hosting
Reseller Hosting
Bare Metal Dedicated Servers
All plans are backed up with amiable and expert technical support team 24/7.
Fasthosts
This web host has been in this business since 1999. It offers state-of-the-art Internet technology which include the following:
Shared Web Hosting
Domain Names
Dedicated Servers
Cloud Servers
Business Class Email
Online Backups
Secure Online Storage
Reseller Channel
Fasthosts operates dedicated Data facilities in the United Kingdom. It maintains more than one million domains that run smoothly. This provider also delivers more than 42 million emails safely in one day. All services are self-managed using the Fasthosts control panel.
UK2
UK2 launched its operations in 1998 and evolved into a big entity. This provider is a principal unit of the UK2 Group that owns other web hosting firms like VPS.net. UK2 has sold more than one million domain names as well as hosted numerous websites and managed dedicated servers for clients globally. UK2.Net does not concentrate on any plan for web hosting.
Its broad range of hoisting packages include the following:
Shared Hosting
Cloud Hosting
Reseller Hosting
Cloud-based VPS Hosting
SSD-Powered VPS Hosting
Managed Dedicated Server Hosting
Unmanaged Dedicated Server Hosting
Electronic Commerce Specialty Hosting
WordPress Optimized Hosting
With 20 years of experience in the web hosting business, UK2 handles clients in over 200 locations worldwide. The UK2 Group of Companies is made up of seven distinct brands catering to different audiences. Aside from the United Kingdom, it also operates from offices based in the United States and Ukraine. The company offers services in line with quick developments associated with international business demands, data transfer speed, and hardware capacity.
TSO Host
TSO Host is part of the Paragon Internet Group. It started operations in 2003. After 15 years, TSO Host is hosting more than 500,000 websites from the company's UK base. This hosting provider is known for its capability to ensure 99.98 percent average uptime. Uptime is considered the number one benchmark for hosting. The least downtime of 99 percent can lead to your website being offline for nearly one day monthly.
Like most of UK web hosting providers, TSO Host highlights the simple one-click installation of popular apps like WordPress, Drupal, and Zen Cart. Users can load a new website within a few minutes and begin selling immediately. Each shared hosting package comes with a 60-day money-back warranty without hidden fees.
TSO Host offers four premium hosting plans with numerous key features. Users can click the categories on display including Domain, Email, Support, and 1-Click Apps. At the same time, it offers cloud hosting through an exclusive cloud platform and custom console for web management.
OVH.com
OVH.com earned the name "world hyper-scale" cloud provider and is currently number one in Europe. The hosting firm maintains 27 data hubs (with hosting capacity of over a million servers) and 300,000 servers in 19 countries. OVH.com also hosts 18 million web apps. The company has designed, managed, and maintained its data facilities since 2003.
This UK hosting provider constantly focuses on top-level security developing innovative solutions to safeguard client data for more than one decade. It is one of the biggest web hosting corporations worldwide. Once you visit the OVH.com website, you can view the image of an Intel Xeon E6 micro-processor with a caption that details how the processor can make the server run faster.
OVH is a French hosting and cloud provider that opened its very first United Kingdom datacentre as part of its five-year €1.5bn or $1.77bn expansion plan. The private network of OVH was developed for multiple site infrastructures. Its London data facility maintains connections with company facilities in the United States, France, Canada, Germany, and the Netherlands.
Hosting services consist of Virtual Private Servers, domain names, web hosting, Plesk hosting, Email and messaging, and SSL gate/CDN. Likewise, OVH.com offers a large variety of cloud services for storage, maintaining, and processing data as well as applications. All these come at an affordable price.