Installing WordPress on Shared Hosting
WordPress has emerged as among the widely used platforms for website development in the United Kingdom and nearly all countries worldwide.
Around 60% of websites using Content Management Systems (CMS) are powered by WordPress. The reasons are its simple interface and user-friendly plugins for functionality and support. Besides, users can choose from thousands of free website design themes. There are drag and drop options so you can easily place widgets on your website.
Shared Hosting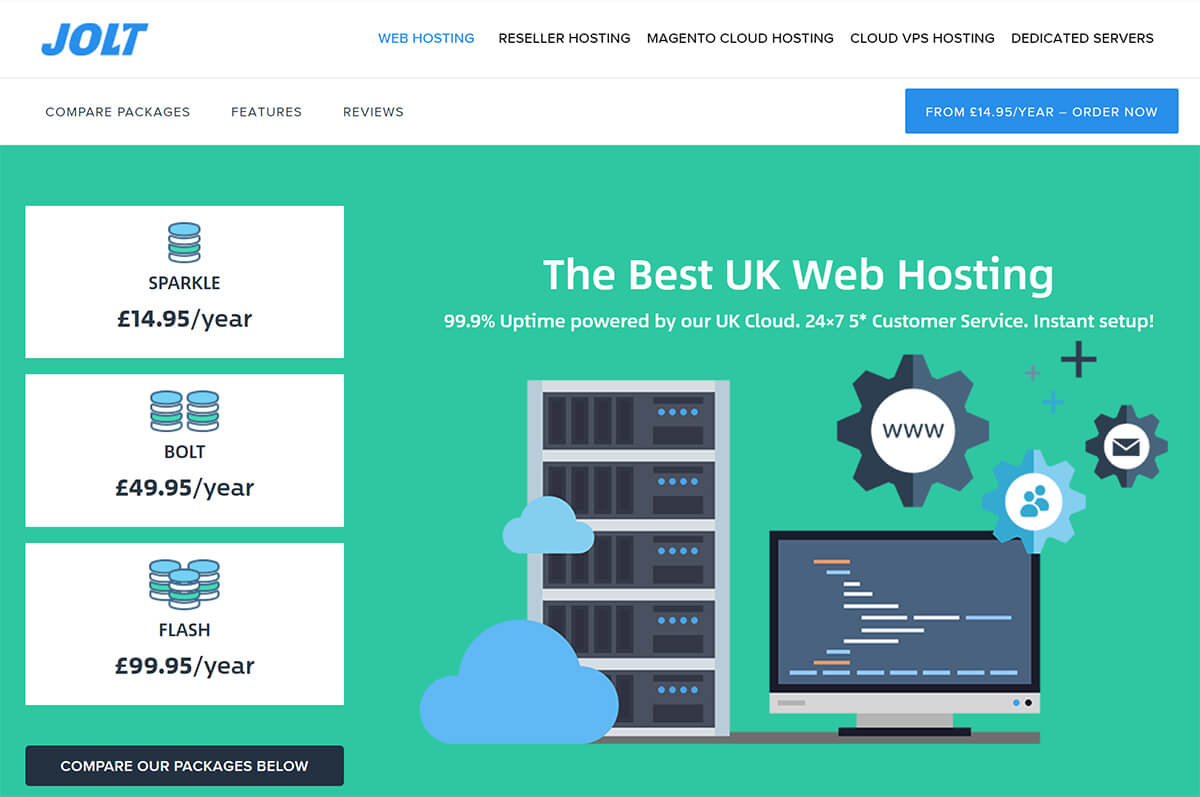 Jolt Hosting UK supports WordPress as a standard. In this article, Jolt Hosting provides users with valuable insights regarding WordPress installation on shared web hosting which is the most common format.
Shared hosting remains the most economical and popular option in setting up your domain compared to other packages.
The primary and straightforward method of enhancing WordPress performance is to use plugins. However, delete or deactivate unwanted plugins and disable them selectively to ensure your server will function optimally. It's worth checking those that affect the site's operation as well as optimization of plugins. See to it this software is coded efficiently and don't repeat redundant database queries.
WordPress has an exclusive caching system which is the fastest approach to enhance functionality. It is easy to install plugins such as WP Super Cache, Total Cache, or W3. These will cache or store your posts (WordPress) as well as pages as static or inactive files. The plugins are given to users reducing the server's processing load. It improves performance hundreds of times over the static pages.
Shared hosting is lower or lesser (in terms of quality) but considerably affordable. The downside is it is not fully optimized to run the WordPress platform. Security features and backups are not as effective compared to its counterpart, managed hosting. The key point is shared hosting is for basic websites and beginners while the managed version is perfect for business portals and those who wish to make upgrades.
Installation of WordPress
It is not difficult to install WordPress on a Jolt shared hosting account. Follow these basic steps:
Log in to your intuitive cPanel. Scroll down to open the Softaculous auto script installer which is a powerful and intelligible app with more than 300 scripts as well as daily updates. The application allows installation of numerous tools which include WordPress.

After opening Softaculous, you can find WordPress at the Scripts Section or through the Blogs Section on the left side. Click the logo.

Click the Install tab to continue which will take you to the WordPress installation screen in Softaculous. You must type all pertinent details here for the WordPress website.Select Protocol in case you have acquired and installed a Secure Sockets Layer (SSL) certificate, and choose https or http depending on whether you prefer www seen in the web browser's address bar. Pick the relevant option in gaining access to your site.
Choose the Domain. Decide on one where you want to install WordPress if you own multiple domains.

If your CMS will be WordPress, it will be WP by default so you can delete the wording. Change it to something secure and unique such as wp + name of the website. It is also a security measure to thwart fraudulent users. Fill in the website's settings although you can make changes later if necessary. You can also leave the database name as default or you may choose to indicate the name of the custom database as well as table prefix.

Scroll down further to view additional options which are associated with the administration of your WordPress site.
Choose the default language of the WordPress installation. Everything is all set for installing WordPress. It is also possible to modify the Advanced Options section.
It is your prerogative to disable the auto upgrades and refresh WordPress notifications, specifically the themes and plugins. This action will disable any notifications from Softaculous. You will receive notifications regarding upgrades if you decide to install custom plugins in WordPress.
Make a choice between making backups for your WordPress site or not. Backups are ideal for website restoration on your accounts or another account provided it has the same domain name together with installation details. You can only use a Softaculous backup from Site1.com to Site2.com by modifying the WordPress database.
Once all these have been executed, you can now press the install button found at the end of the page. Softaculous will take care of sending the installation specs to the email address listed in your account. In case you want the details sent to another email address, enter the username in the field provided underneath the install button.
Manual Installation
You can install WordPress manually. However, it entails additional steps in building the website which is preferred by some users. For manual installation, you can either create the site or make use of software in handling development safely since the setting up is performed locally. Download and upload WordPress files.
Build the database.
Install WordPress
Download – Download the latest version of WordPress at WordPress.org. Save this zip file to a location that you can access easily like your desktop. Upload the files to your own hosting account.
Upload – There are two ways of uploading the files.
Use a File Transfer Protocol (FTP) cross-platform app.

Use File Manager in your hosting account cPanel.
Both methods work alike for uploading of Zip files with rarely any difference between the two options. The cPanel does not need any installation software because of its browser-based nature. With FTP, the entire process to set up consumes more time compared to the cPanel file manager. File Transfer Protocol proves to be more valuable in programming development particularly developing the site which requires more work.
In creating a copy of your website, it is possible to use any FTP program for uploading of files. First, unzip the file into your desktop. Then, extract said files to the proper directory in your hosting account.
Benefits of WordPress Shared Hosting
The website loads faster on systems of viewers if SSD powers WordPress hosting. Faster loading means a possible increase of your website's rankings in search engine results.
WordPress provides reliable security in shared hosting. Jolt Hosting installs security mechanisms at server level which ensures that your WordPress website will be secure and breach-free. Your site and blog are scanned on a regular basis, so the appropriate measures are enforced to block suspicious files. Jolt installs SSL certificates through the encryption of incoming and outgoing information.
Regular backups for your website will help you cope with any kind of contingency. The WordPress hosting service sees to it that your site is backed up automatically on a daily basis. Other shared hosting plans may not provide this feature.
Majority of WordPress websites are compromised due to obsolete plugins as well as core files. With WordPress hosting, it is not necessary to update the site frequently according to the latest version of this open-source Content Management System. The lightning-fast Jolt UK hosting uses the most up-to-date version automatically.
Outstanding customer service and support will always be the foundation of a reputable and efficient hosting provider. Efficient WordPress hosting companies such as Jolt provide technical support by WordPress specialists capable of handling your CMS-related inquiries and problems.
An Afterthought
The primary precondition for the successful installation of WordPress CMS is to make sure that your hosting is organized properly. This provides adequate storage and power for your site. It is crucial to find and employ a competent web hosting provider for your site's endurance. Of course, there are many hosting firms in the United Kingdom that can install WordPress systems for shared hosting clients.
Jolt's hosting services contains all features you want from a web host. These are the one-click WordPress CMS, cPanel, complete Email services, PHP, MySQL, and a lot more. The company also offers customers a no-questions-asked 45-day money back warranty.
This guide was prepared by JOLT Hosting UK, one of the most reliable cloud web hosts in the United Kingdom with website at http://www.jolt.co.uk/.
Learn how to optimize WordPress. Visit How to Optimise WordPress on Shared Hosting