How to Manage Your Website with cPanel
The cPanel software is the common admin panel for numerous hosting firms.

cPanel allows users to manage websites using a web interface rather than the traditional console. This control panel facilitates accomplishment of tasks quickly even for non-techie individuals. You can set up websites without difficulty through cPanel. The platform offers multiple features which range from adding an email address to the management of subdomains.
Remarkable Features
Many web hosts in the United Kingdom and elsewhere prefer cPanel because of its attributes.
Reliable Security – This perhaps is the most valuable feature of any software or application. The control panel has the capacity to provide absolute security giving the user peace of mind. It is also secured by directories with strong passwords. These include Secure Sockets Layer and Transport Layer Security, GNU Privacy Guard, and Internet Protocol Denial.
Simple File Management – The cPanel makes website monitoring easier for optimum usage of disk space, editing, and backups of folders or files.
Secured Server Management – It ensures straightforward server management for Virtual Private Servers as well as Dedicated Servers using command line scripts. Proper server administration assists in resolution of issues such as performing system backups, automation of account suspensions, restarting by means of Secure Shell or SSH, and restoring accounts.
Multiple Email Accounts – This control panel creates and manages several email accounts, autoresponders, and forwarders. You can also access emails through Roundcube, an Internet Message Access Protocol (IMAP) which helps in blocking spam and creating filters.
Managing the Website
Hopefully, these guidelines will show users the importance of managing their websites with the Linux-based hosting control panel. Here are the steps that you can follow:
Update and modify your cPanel preferences. Logging in to cPanel brings you to the dashboard.

Go to the search bar at the topmost portion to find the plugin you want to use.

Otherwise, opt for the Ctrl + F command. The vital cPanel sections include emails, files, domains, software, and services.
Domain Name Management

The cPanel's Domains Section is useful in adding another domain to your web hosting account. It manages redirections or creates subdomains for building a new website. In adding a new domain, click on the Add-on Domain. Input the required information to start creating the second website. You may also manage redirects as well as produce subdomains under a current domain within the cPanel section.
Administer subdomains in cPanel>Domains>Subdomains section. Enter the subdomain in the Subdomain field. Click the Document Root field. The location will appear automatically after adding the subdomain. Then, click the button labeled Go Back to manage redirection of the subdomain or remove it totally.
You can run the Add-on Domains through cPanel>Domains>Add-on Domains Section. Through Add-on Domains, it is possible to host domains on the cPanel account login and serve various content aside from the account's primary domain. Said interface is like the subdomain screens with additional fields. A new File Transfer Protocol account is also generated for each add-on domain.
Parked Domains will permit you to indicate other domain names in your account. These serve contents from the domain where you stored them. Click the Go Back tab after adding a parked domain or take it out completely.
Manage Email Accounts

For those who want to set up a custom email address matching their domain names, proceed to the Email Section and click Email Accounts.
You can now create an account under the preferred domain name.
Use the drop-down tab. If you access the email account for the first time, scroll down to the location of your accounts.
Click Access Webmail from the More drop-down. Bookmark the Inbox for easier access moving forward.
Understand the File Manager
To manage files in your website, go to File Manager.
Choose the site where you want to open files. Click Go. This action will open the list of files comprising your website. Do not touch this function unless you are well-versed with the system. Deletion of any file can render your site ineffective.
How do you find the File Manager?

Log in to cPanel and follow the prescribed steps. By opening cPanel, you can view File Manager. If this does not happen, use the Search Function. Once the File Manager is opened, a new window pops up and follow the instructions provided. You must learn the correct navigation of File Manager.
It is easy to organize, move, copy, edit, delete, and adjust permissions on your folders/files. However, most hosting providers suggest performing editing of files only during emergencies. It is still advisable to use the Hypertext Markup Language or HTML Editor for the best results (In cPanel>Softaculous). This commercial script library automates web apps' installation to any website using pre-defined scripts.
Log in your dashboard.
Click My cPanel. Click the applicable domain link if you have more than one domain in your account. Enter the required password.
Click the File Manager icon from the Files Section. The, you will see the tools in the upper menu bar and folders in the left-hand menu.
Go over these pointers on how to navigate within File Manager.
Click the Folder icon for opening folders.
Proceed to a higher level by clicking the Up One level link close to the top.
Make use of the top path links in moving up and down the course.
Choose a folder by clicking the folder icon or link of folder name. After this, you can see or make changes to any property or content.
Auto Installers
The Auto Installer like Softaculous ensures prompt and efficient installation of platforms required in building websites and different Content Management Systems, scripts, and frameworks. It is not a default feature but comes available in cPanel applications.
WordPress
Drupal
Joomla
Presta Shop
Custom Error Page & Backups
Browsers find a typical 404 Error if they attempt to navigate to a non-existent web page. You can avoid this by creating a custom error page. Customizing error pages help your visitors land on a page with useful information.
One valuable feature of cPanel is its capability to create backups in one large file. You can also select files from the home directory, MySQL databases, and email filters/forwarders. Download said items to the home directory of your server account or remote File Transfer Protocol server. You may use the FTP in downloading desired files in the future by backing up to the hosting server. Good backup is helpful if you use WordPress Content Management System.
Cron Job
The Cron job feature is something that new website owners find difficult to comprehend. Only web developers and technical experts are knowledgeable of this feature. It is advisable to consult the hosting provider if you are not familiar with it. Cron jobs arrange tasks on servers. You can choose the time, day, date, and frequency for an action to take place. These tasks generally consist of scripts and other tasks.
One-Click Install
The QuickInstall tool belongs to the Software Section. One-Click Install allows you to install WordPress without difficulty along with other popular CMS on your domains.
Click WordPress.
Scroll downwards until you find a box
Click Install WordPress.
Choose the domain name and fill in the fields with your admin email, website name, and admin username.
You will get an email after the installation is completed. Then, you can log in to the WordPress backend.
This is the kind of information that many beginners normally want to know about the cPanel's importance in website management.
Let's Encrypt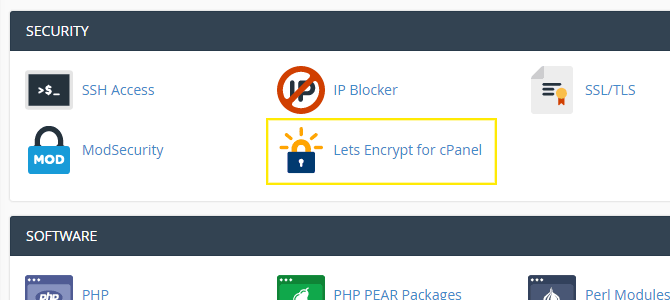 A cPanel application that provides users the means to install SSL certificates for their sites is called the Let's Encrypt cPanel app. Many hosting providers provide SSL certificates for free through cPanel. Installation as well as renewal is automated for all kinds of domains. Users not familiar with these certificates must spend time to understand the tool.
The matter of securing websites and servers is not easy even for experts. This is where cPanel comes in. The application provides tools to help minimise the likelihood of attacks, malware, and viruses. Security is achieved without making access hard for the user. The cPanel helps you manage files or folders.
Summary of cPanel Experience
To sum it up, cPanel is very basic, fast, and secured. It makes website management a stress-free task. You can handle File Transfer Protocol accounts, emails, domain names, and databases (MySQL) as well as control Spam. The interface is user-friendly even for the neophyte. After choosing a web host, the next thing to do is explore cPanel.
The built-in features of cPanel together with add-ons may not have been explained properly. Many users seldom visit cPanel for their websites except for setting up a new FTP user or email accounts. Bear in mind there are still plenty of things to learn and use.