Backup Plugins for WordPress
Jolt believes that backups must be performed by the server and not WordPress. However, it is not always possible to use server-side backup routines. You cannot use external backup tools for several reasons:
cPanel is not always available.
You do not have any budget for a business-grade backup solution (CodeGuard starts at $5 per month).
You want to omit setting up do-it-yourself backups.
You have little or no control over the hosting account.
It is logical to manage backups from WordPress backend.
You believe backup must be performed by WordPress (yes, we can accept this).
WordPress backup plugins may contain options that can affect server performance and stability if not used correctly. Get in touch with us for the appropriate backup configuration.
Free WordPress backup plugins
We recommend the 100% free (or free with paid versions) plugins to backup your WordPress websites.
BackWPup

BackWPup is simple to use and install but it's loaded with great features.
It allows backup for WordPress database, files, and content (XML export) with options like include/exclude directories, and compressed backups, among others. It can store backups on cloud storage (Dropbox, Amazon S3, Microsoft Azure, etc) and any remote FTP servers.
BackWPup is a perfect plugin for anything that runs on WordPress-based websites. Additionally, it supports WordPress Network (former WPMU or WordPress Multisite). This is a rare feature for free WordPress backup plugin.
Get the free version of BackWPup plugin here.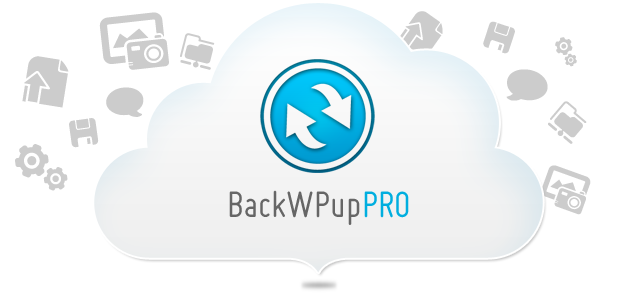 BackWPup Pro offers quite a few additional features like wizards, differential backups, premium support, and more. Prices start at $75 one-off for 2 domains with 12 month of updates and support. You can find more information here.
BackUpWordPress
BackUpWordpress is the right plugin for those who own small and medium-sized websites and do not have technical knowledge. After installation, simply choose the frequency of creating backups, time for backup creation, and number of backup copies for storage. BackUpWordpress stores backups on the same server where WordPress website is hosted. Therefore, recommend downloading backups to your computer to avoid losses in case of hosting problems.
WP-Dump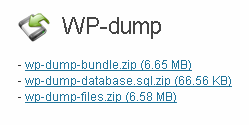 The plugin saves WordPress database and files to zip files. It facilitates changing of URLs in the database dump if you want to use a copy of your website locally (e.g., for development purposes).
Get the plugin here.
We recommend use of the plugin only on small WordPress websites since it cannot handle large databases and files.
WP-Dump cannot schedule backups or store backups except on the same server where WordPress website is hosted. We do not recommend this as a sole backup tool.
Commercial WordPress backup plugins
In case you want to spend a dime…
BackupBuddy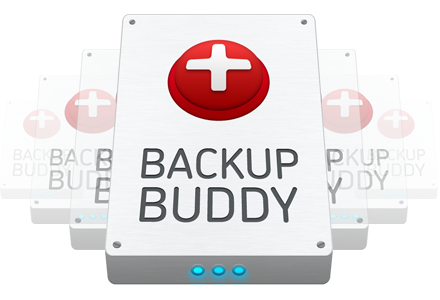 BackupBuddy by iThemes allows scheduled WordPress backups. You can send them to third-party storage services, like Dropbox, Amazon S3, Rackspace Cloud, or FTP server. It offers other features such as the ability to restore backups and move the entire WordPress installation to another server. Pricing options vary from $80 for 2 licenses to $197 for developer license that covers all 20 of their plugins.
The iThemes Codex shows the trial stage of WordPress Network support. Read through the rest of the iThemes Codex page and focus on recommendations, restrictions and other issues.
Snapshot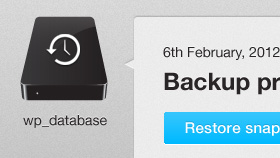 Snapshot by WPMU DEV creates accessible backups. It schedules automatic backups of WordPress files and database. It also supports Amazon S3, Dropbox or SFTP for backup storage.
Snapshot can create 'Time Machine' snapshots of the entire website and includes a detailed log of all snapshots. Customizable restore points allow easy restoration at any given time. The plugin highlights WordPress Network compatibility.
Pricing starts at $9 for this plugin. You can purchase and use it for an unlimited time on infinite number of websites.
Bonus advice
Jolt suggests that you take screenshots of different settings at the WordPress backend.
If something goes wrong, you might need to reconfigure from the WordPress backend. With complicated plugins/themes, you may need a lot of time for setting up. Saved screenshots may also make it easy and quick to set everything up again.